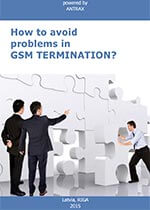 How to avoid problems in GSM TERMINATION? – White paper
What will you learn in this white paper?

Why software and hardware should
be produced by one manufacturer?
How to make your route better?
How to purchase SIM cards?
"Keep your money in a bank and your SIMs in a
SIM-bank
.
Usually solutions for GSM termination consist of
GSM gateway
converting
VoIP signal to GSM and SIM-bank which holds sims and controls their work.
Placed separately it lets you to locate gateways in different places
with no need of putting sim into each of them.
This reduces expenses for system maintenance.
Get this material >
https://en.antrax.mobi/easy-white-paper/
==================================================================
Antrax is produced by Flames Group SIA, Latvia.
The hardware is sertified by TUV Rheinland Group, Germany.
Certificates numbers: CB; HU-000 750, IECEE: HU-000 751, EMC: M5 69240719 001, LVD: M1 69240718 0001.
Tel: +371-67-333-777
http://antrax.mobi